National Hispanic Heritage Month runs from mid-September through to mid-October.
Here we celebrate our many extraordinary Latinx alumni and their extraordinary achievements, and we look forward to featuring many more in the future!
To nominate an alum for recognition, email su-law@syr.edu.
We salute the College of Law's first Hispanic graduates!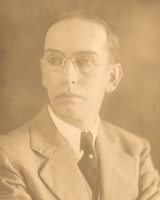 José Benet Colón L'1903
We are still researching information on José Benet Colón, a Puerto Rican native, and will post what we find here and on our history timeline. 
---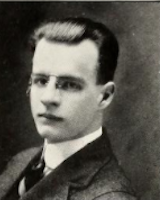 Lorenzo Guarch y Rios L'1916
Syracuse University archives show that Lorenzo Guarch y Rios—a Puerto Rican native—appears in the 1916 Syracuse University Commencement program as a graduate of the Bachelor of Laws program. He is also listed in extant student directories from this period as a member of the Psi Psi Chapter of Sigma Chi at Syracuse University.
---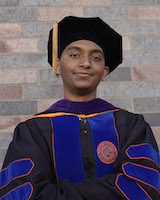 Alex Bejaran Estevez L'21
Access to Justice Fellow, Volunteer Lawyer's Project of CNY
Alex Bejaran Estevez was born in 1995 in San Juan Puerto Rico. He attended school there and graduated from the University of Puerto Rico, Rio Piedras Campus with a BA in Political Science, with a concentration in International Relations and Political Theory.
During his time as an undergrad, Alex interned with the House Budget Committee Democratic Staff as part of the Washington Center's Hill Internship Program through an internship initiative funded by the Puerto Rican State Legislature. Shortly after graduating, Alex moved to New Hampshire to work on a congressional primary in NH01, where he worked, first, as a finance fellow, and then as a policy assistant to the campaign.
A few weeks before the election, Alex moved to Syracuse, New York, to attend Law School at Syracuse University, College of Law. While at SU, Alex served as Secretary and then President of LALSA. After graduating from SU, Alex moved to Seattle, Washington, where he currently works as a staff attorney for the Sexual Violence Law Center.
---
Hon. Mary L. Bejarano L'99
Judge of the Criminal Court, Queens Criminal Court, City of New York
The Hon. Mary L. Bejarano is a judge for the Criminal Court of the City of New York in Bronx County. She presided in the Bronx until 2019 when she was transferred to Queens County. She was originally appointed to serve as an interim judge for the Civil Court by Mayor Bill de Blasio in 2017. She was reappointed to the bench in 2018.
Judge Bejarano received her B.A. in 1994 and her M.A. in 1995 from St. John's University. She went on to earn her J.D. from Syracuse University College of Law in 1999. She began her legal career as an assistant district attorney with the Queens County District Attorney's Office.
After five years with the Queens County D.A., Judge Bejarano joined the law firm of Wilson Elser as an associate in 2004, before joining Shaub, Ahmuty, Citrin and Spratt LLP as an associate in 2005. Three years later, she entered into solo practice at her own law firm, where she would practice until reentering the public sector in 2015. At that time, Judge Bejarano became an assistant district attorney with the Kings County District Attorney's Office. She would hold that position until her appointment to the bench in 2017.
---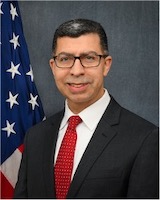 Scott A. de la Vega L'94
Associate Solicitor for General Law, US Department of the Interior
Scott de la Vega is a member of the federal government's career Senior Executive Service (SES) and was appointed by President Biden to be his Acting Secretary of the Interior earlier this year. Scott served as Interior's Director of Presidential Transition in 2020 and served on the Federal government's Agency Transition Director's Council. Scott is a leading authority on political activity law, ethics and appropriations law, and federal administrative law and policy.
He is on the senior management team of the Office of the Solicitor, U.S. Department of the Interior and currently serves as the Associate Solicitor for General Law, the Department's highest ranking career attorney. Prior to that position, he was the Director of Interior's Departmental Ethics Office and DOI's Designated Agency Ethics Official.
Previously, Scott served for several years in various non-partisan senior legal positions at the White House, including as Ethics Counsel to the Vice President and in the Office of the White House Counsel as well as Managing Counsel for Operations in the Executive Office of the President. In these roles, he oversaw the financial disclosure clearance process for all White House officials; directly counseled senior White House staff, Cabinet officials, and nominees seeking Senate confirmation; and helped to formulate policy on issues ranging from acquisition and appropriations law to conflicts of interest and Presidential transition.
---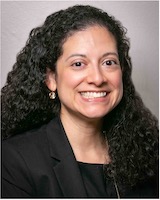 Angela Cruz L'06
Senior Counsel, Special Litigation Unit, Tort Division, NYC Law Department
Angela R. Cruz began her career at the Law Department in the Family Court Division where she prosecuted both misdemeanor and felony juvenile delinquency cases. In 2008, Angela transferred to the Tort Division, where she is currently a Senior Counsel in the division's elite Special Litigation Unit.
Angela defends the City of New York, its agencies, and employees in high profile and complex personal injury actions, often involving catastrophic injuries and garnering substantial media attention. She handles cases from inception through disposition by motion practice, settlement, or trial.
In 2011, Angela's efforts were recognized when she received the Division Chief Award and in December 2014, when she received the Law Department's Edith I. Spivak Special Recognition Award. In 2016, Angela was promoted to Assistant Unit Chief within the Special Litigation Unit, a role in which she supervises a team of attorneys. She is also involved in recruitment efforts for the Law Department and interviews applicants for attorney positions throughout the agency.
Prior to joining the Law Department, Angela earned a B.A. and an M. S.W. from Tulane University and a J.D. from Syracuse University College of Law. She is a mother of two and looks forward to bringing her children to the College of Law's new campus very soon.
---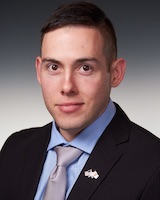 Ariel Blanco L'20
1st Lieutenant, Judge Advocate, United States Marine Corps
Ariel Blanco is a 1stLt, Judge Advocate in the U.S. Marine Corps. He is currently training at The Basic School, Camp Barrett in Quantico, VA.
While at Syracuse Law, Ariel, argued on the National Trial Team. His team finished third overall at the Tournament of Champions and won the National Trial Competition regional. Additionally, he received the New York State Bar Association Tiffany Cup and was inducted into the Order of the Barristers.
Ariel's legal experience includes working in the Defense Legal Services Agency at the Pentagon, as well as the Office of the Staff Judge Advocate, II Marine Expeditionary Force. Ariel also externed at the Federal Public Defender, Northern District of New York.
He will soon attend Naval Justice School in Newport, RI to become qualified to serve as counsel at military courts-martial.
---
Brenda Lopez Romero L'11
Senior Assistant District Attorney, Gwinnett (Georgia) Judicial Circuit
Brenda Lopez Romero is Senior Assistant District Attorney for the Gwinnett Judicial Circuit leading the Justice and Community Initiative.
Brenda was the first American Latina elected to the Georgia General Assembly where she sat on the Education, Retirement, and State Planning and Community Affairs committees. She has worked over 15 years in the legal and political advocacy of immigrants and low-income communities. Formerly, she was a principal attorney handling removal defense and immigration and nationality matters. She also serves as Chairwoman for the Gwinnett County Democratic Party.
Brenda holds a law degree from Syracuse University with a National Security and Counterterrorism certificate and a bachelor's degree from Georgia State University in Political Science and Sociology. While in law school, she was a clerk for Georgia Legal Services Program, American Civil Liberties Union, and an extern for Trial Judge Laura Galvan Salgado for the First District Court of Morelos in Mexico.
Brenda has intensive involvement in community organizing and affiliations with the American Immigration Lawyers Association, Hispanic National Bar Association, and Georgia Hispanic Chamber of Commerce. She is also a member of Leadership Georgia, Leadership Atlanta, International Women's Forum, U.S. Global Leadership Coalition, and Truman National Security Project. Brenda is on the board of directors for the Georgia Association of Latino Elected Officials and chairs its federal political action committee. Among her lengthy volunteerism, she is most proud of her work as a former G.E.D. instructor with the Marist School Adult Education Program.
---
Hon. Ramón E. Rivera L'94
Judge, New York State Court of Claims
Judge Rivera was nominated to the New York State Court of Claims by Gov. Andrew Cuomo, confirmed by the NYS Senate, and sworn in on June 8, 2021.
Before this appointment, Judge Rivera was a partner at Mackenzie Hughes LLP, which he joined in 2001. He was a member of the firm's business department, where he had served on the Executive Committee and chaired the Employment/Immigration Law Practice Group. His responsibilities included providing counsel and assistance to corporate and individual clients with establishing US branch offices, affiliates, and subsidiaries for US immigration purposes; counseling businesses on US employment and non-discrimination laws, I-9 compliance, and worksite enforcement audits; assisting locally and nationally based hospitals and medical providers with obtaining an administrative waiver of the home residency requirement; and counseling foreign and domestic corporations with obtaining inter-company transfers of key personnel, executives, and multinational managers.
Judge Rivera also was judicially appointed Chair to the New York State Appellate Fourth Department Fifth Judicial District Attorney Grievance Committee, and judicially appointed to the NYS Appellate Fourth Department Judicial Committee on Character and Fitness. Judge Rivera was as an adjunct professor at Syracuse Law, where he earned his Juris Doctorate in 1994. He holds a Bachelor of Science degree from the University of California.
---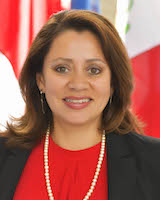 Giovanna M. Beaulieu L'94
Senior Legal Officer, Office of the Legal Adviser, International Labour Organization
Giovanna M. Bustos Beaulieu, Senior Legal Officer, works in the Office of the Legal Adviser/Office of Legal Services of the International Labour Organization (ILO). The ILO, established in 1919 and headquartered in Geneva, Switzerland, was the first United Nations specialized agency and is the only tripartite one to bring together governments, employers and workers of 187 Member States. It sets labour standards, develops policies and devises programmes promoting decent work for all women and men.
Since 2000, when Giovanna joined the ILO, her role has expanded from providing legal advice and support in the context of commercial transactions and institutional matters (e.g., at the ILO's annual International Labour Conference) to her present responsibilities that include reviewing and revising internal policies, as well as providing legal support towards their operationalization, representing the ILO in inter-agency working groups and negotiating complex funding arrangements with governments, all with a particular focus on accountability and transparency.
She also assists with the on-boarding and supervision of junior legal officers. Prior to joining the ILO, Giovanna practiced insurance defence litigation as in-house counsel for Royal & Sun Alliance Insurance Group out of its Tarrytown, New York office that covered the counties of: Bronx, Dutchess, Orange, Putnam, Rockland, Sullivan and Westchester. She works in English, French and Spanish.
---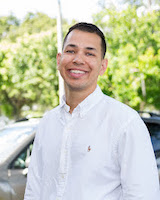 Juan Blandino L'17
Associate Attorney, J. Perez Legal PA
Juan Blandino is an associate attorney at J. Perez Legal, P.A. Mr. Blandino is a corporate generalist for small to medium sized businesses and non-profit organizations. This role requires him to touch upon and advise entities on many practice areas daily. On any given day Mr. Blandino can handle matters including business formation, employment, intellectual property, corporate governance, and litigation.
Apart from his corporate practice, Mr. Blandino also practices in the areas of Contracts, Real Estate, Commercial Real Estate, Title Closings, Foreclosure Defense, Short Sale Negotiations, Condominium and Association Law, and General Civil Litigation. Prior to joining J. Perez Legal, Mr. Blandino operated his own transactional firm, and was a civil litigator handling homeowner's property insurance matters at Colodny Fass and general liability matters at Kelley Kronenberg.
---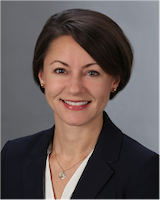 Angela K. Santos L'09
Partner, Private Client Services, Duane Morris LLP
Angela Klemack Santos is a partner at Duane Morris LLP where she practices law within the Private Client Services group. Ms. Santos advises U.S. and non-U.S. ultra high net worth individuals, families, business owners and their advisors with respect to the design and implementation of tax minimizing and wealth transfer planning strategies, addressing U.S. income and transfer taxes, domestic and international estate planning, pre-IPO/pre-business sale transaction planning, pre-immigration planning, tax compliance, asset protection and business succession planning.
She also advises fiduciaries and individuals regarding the tax treatment and reporting obligations of foreign trusts with assets or beneficiaries located in the U.S., and personal representatives/executors and trustees on complex estate and trust administration and postmortem planning.
Ms. Santos is admitted to practice in Florida, New York and Connecticut. She was a 2016 graduate of the inaugural class of the Florida Fellows Institute of the American College of Trust and Estate Counsel ("ACTEC"). She was a 2016-2018 Fellow of the Real Property Probate and Trust Law ("RPPTL") Section of The Florida Bar and currently serves as a Vice-Chair of the RPPTL Fellows Committee.
She is a 2010 graduate of Georgetown University Law Center, where she earned an LL.M. in Taxation, a 2009 graduate of Syracuse University College of Law, where she was editor-in-chief of The Labor Lawyer, an ABA publication, and a 2003 graduate of The Ohio State University, where she was a Morrill Scholar, and a Fellow of the John Glenn Institute for Public Policy and Public Service. Before law school, she was a Legislative Assistant to former Congressman Patrick J. Tiberi in Washington, D.C. Ms. Santos lives is Boca Raton, Florida, with her husband and two children.
---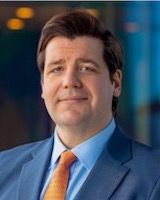 Antonio Diaz-Albertini L'07
Partner, Milbank LLP
Antonio Diaz-Albertini is a partner at Milbank LLP in their New York City office. His practice focuses on complex finance and capital markets transactions, including leveraged sponsor buyouts, acquisition financings, the issuance of secured and unsecured high-yield debt securities, initial public offerings and follow-on equity offerings, and liability management transactions. He has represented clients in finance and capital markets transactions across a variety of industries including retail, financial services, technology, natural resources, pharmaceuticals, gaming, and telecommunications.
Prior to joining Milbank, he was a partner at a leading US law firm serving the financial industry where he principally advised clients on financing and capital markets transactions. He started his legal career as an associate at a Wall Street law firm where he spent several years representing investment banks, initial purchasers and syndicated loan groups in public and private debt and equity capital markets and leveraged finance transactions. Mr. Diaz-Albertini joined Milbank in 2021.
Mr. Diaz-Albertini graduated magna cum laude from Bryant University where he was a member of the Beta Gamma Sigma Honor Society. He received his J.D. from Syracuse University College of Law where he graduated magna cum laude, was a member of the Syracuse Law Review, the Order of the Coif and the Justinian Honor Society.
Mr. Diaz-Albertini was named a Rising Star by New York Super Lawyers and is recognized as a "Notable Practitioner" by ILFR 1000.
Antonio joined the College of Law Board of Advisors in 2020.
---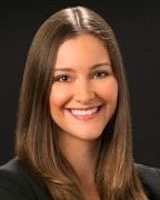 Shawna Benfield L'09
Counsel (Television Production), The Walt Disney Company
Shawna Benfield is a television production attorney at The Walt Disney Company, and works on television series that air on FX Networks and FX on Hulu (e.g., It's Always Sunny in Philadelphia, DAVE, Better Things, Pistol). Prior to joining Disney, she was a production attorney at MGM Studios where she served as the attorney for the singing competition series The Voice.
Before transitioning to entertainment law, Shawna was a litigator and represented technology and pharmaceutical clients in complex commercial business disputes. She also served as a law clerk to The Honorable John E. Steele in the Middle District of Florida and The Honorable Karen Wells Roby in the Eastern District of Louisiana.
---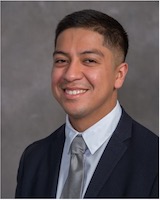 ​
Omar Mosqueda L'20
Associate Counsel, Travelers Insurance
Omar Mosqueda was born and raised in Salem, Oregon. As a son of immigrants, Omar is a first generation student and graduated from Baylor University as a double major in Political Science and Philosophy. Omar joined the College of Law in 2017 and graduated in 2020. While at Syracuse, Omar served as the President of Latin American Law Student Association, President of the Student Bar Association, Chair of the LGBTQ+ Caucus of the American Bar Association – Law Student Division, and a member of the Travis H.D. Lewis Advocacy Honor Society, where he was an arguing member of the Uvaldo Herrera National Moot Court Competition.
Upon graduating from the College of Law, Omar had the privilege of clerking for the Hon. Rodney Thompson, L'93, in Trenton, New Jersey. At the conclusion of his clerkship, Omar joined Travelers Insurance where he now serves as an Associate Counsel focused on First Party Claims.
Outside of the law, Omar is an avid vinyl collector, runner, and amateur chef.
---
Jose Enrique Perez L'07
The Law Offices of Jose Perez Esq.
Jose is admitted to practice law in New York, New Jersey, and Venezuela. Jose began his career as an attorney in Venezuela. Jose's outstanding Venezuelan practice was recognized several times by the Miranda State Bar Association, which awarded him with honors in three different years.
In 2002, Jose decided to come to the United States to further develop himself academically and professionally. In 2004, Jose was admitted to Syracuse University College of Law, where he graduated cum laude. During law school, Jose clerked for a US District Court in Florida.
Jose joined the Smith Sovik law firm in 2007. Since joining the firm, Jose was involved in all areas of litigation. Jose has been and is a member of the Latin American Law Student Association; Hispanic National Bar Association; Black Law Student Association; DRI; American Bar Association; New Jersey State Bar; New York State Bar; Law Students in Action Project-Spanish Translation and Interpretation Assistance Team; Onondaga County Bar Association; AILA, among others.
In 2012, Jose decided to open his new and independent law firm. After opening the Law Offices of Jose Perez, Jose has been involved in all areas of litigation, including construction, labor and employment, premises liability, motor vehicle accidents, workers' compensation, SSI/SSD, and immigration. Jose has been a speaker/panelist at numerous events dealing with his legal practice, Workers' Compensation, and immigration issues. Jose also has a "Know-Your-Rights" column in the CNY Latino newspaper.
Jose has received numerous awards and recognitions in New York State:
2009 Latino Leadership Award;
2010 40 Under 40 Rising Latino Star in New York State;
2011 HNBA Presidential Pro Bono Recognition Award;
2011 40 Under 40 of Central New York;
2011 Service Award in Recognition of Outstanding Pro Bono Service;
2012 New York State Bar Association Empire State Counsel;
2013 Super Lawyers Upstate New York Rising Star;
2013 Keynote Speaker of the Opening Ceremony of the Onondaga County Hispanic Heritage Month;
2014, 2015, 2016 and 2017 Super Lawyers Upstate New York Rising Star;
2016 Keynote Speaker of the Opening Ceremony of the Syracuse University College of Law Hispanic Heritage Month Celebration
2017 Martindale Hubbell. Very High Rating in Both Legal Ability & Ethical Standards.
2017 The American Registry. Top Ten American Professionals.
2017 Top Attorneys of Upstate New York. Rising Stars 2017.
2018 Martindale Hubbell. Very High Rating in Both Legal Ability & Ethical Standards.
2018 Top Attorneys of Upstate New York. Rising Stars 2018.
2018 The National Advocates. Top 40 Under 40.
2018 Worldwide Super Lawyers. SSI/SSD Law Firm of the Year.
2019 American Institute of Legal Counsel. 10 Best Immigration Attorneys. New York.
2019 Martindale Hubbell. 5 Anniversary 2014-2019. Rated BV Distinguished for 5 years. Very High Rating in Both Legal Ability & Ethical Standards.
2019 Martindale Hubbell. Very High Rating in Both Legal Ability & Ethical Standards.
2019 Acquisition International. 2019 Leading Adviser Awards. Leading Workers' Compensation Lawyer of the Year, New York.; among others.
2019 Sonia Sotomayor Award by the Syracuse University College of Law and the Latin American Law Students Association.
2020 Martindale Hubbell Award. Very High Rating in Both Legal Ability & Ethical Standards.
2020 Global Excellence Awards – Most Influential Immigration Lawyer 2020 – New York. AI Acquisition International.
2020 and 2021 New York State Super Lawyers.
---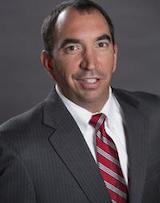 Jay S. Brown L'95
Acting General Counsel, US Chamber of Commerce
Jay Brown L'95 is the Acting General Counsel of the US Chamber of Commerce. He leads the Chamber's legal operations, representing the organization in legal disputes and overseeing the legal affairs of the Chamber.
Prior to joining the Chamber, Jay was a Counsel in the Washington, DC, office of Mayer Brown where his practice focused on antitrust investigations of mergers and acquisitions and litigation in state and federal courts. Before Mayer Brown, Jay was an associate at White & Case. Jay is a 1995 graduate of Syracuse University College of Law and graduated from Santa Clara University in 1992.
---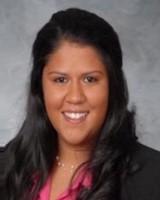 Mariah Martinez L'17
Trial Attorney and Forensic Unit Specialist, New York County Defender Services
Mariah is a Puerto Rican and a New York native, who graduated from the University at Albany as a double major in Criminal Justice and History. She later graduated from Syracuse Law, where she obtained both her J.D. and an M.S. in Forensic Science as part of the dual-degree program.
During her time at Syracuse Law, Mariah was a member of the Latin American Law Students Association (LALSA), the Black Law Students Association (BLSA), and Moot Court Honor Society. She was also a student attorney in the Criminal Defense Clinic.
Even before starting law school, Mariah knew that she wanted to dedicate her career to serving indigent communities and become a public defender. Mariah was a Pro Bono Scholar during her final semester at Syracuse Law. The Pro Bono Scholars Program allows students in their final year of law school to devote their last semester of study to performing pro bono service through an approved externship.
Mariah completed her externship at the Defender Association of Philadelphia, where she assisted attorneys who were a part of the office's Juvenile Lifer Project. After the Supreme Court ruled that life without parole sentences were unconstitutional for children in 2016 in Montgomery v. Louisiana, 500+ individuals from Philadelphia alone had to be re-sentenced. Mariah contributed to the preparation of juvenile lifer re-sentencing packets, as well as gathered mitigating evidence for juvenile lifer re-sentencing hearings.
---
Cisco Palao-Ricketts L'03
Partner, Business Law Department and ERISA/Executive Compensation, Goodwin Proctor
Cisco Palao-Ricketts is a partner at Goodwin Proctor in Silicon Valley. Palao-Ricketts advises start-up, emerging growth and public companies on complex tax, securities, employment and ERISA issues that arise in compensation arrangements. Located in Silicon Valley, his practice primarily focuses on counseling companies in the technology and life sciences sectors. He has been recognized by The Legal 500 US for his achievements. Palao-Ricketts was born in Cuzco, Peru and lived there until he was about six-and-a-half years old as an American born abroad. In the early 1980s, he moved to Illinois and later graduated from the University of Chicago Laboratory High School and the University of Illinois at Champaign-Urbana.
Palao-Ricketts earned his J.D. from Syracuse University College of Law in 2003. He also holds an LL.M. degree from Georgetown University Law Center in tax law. Before becoming the father of three children, Palao-Ricketts contributed to the advancement of the California Bar by developing model answers and grading exams for prospective California lawyers from 2007 through 2011.
As an active member of his community, Palao-Ricketts spends his free time as a coach for PONY League Baseball, as a co-Den leader and Assistant Treasurer for the Cub Scouts in Los Altos, and as a contributor to the advancement of the Latino community and working poor through his affiliation with La Raza Centro Legal (LRCL), one of the oldest non-profits in San Francisco.
Following graduation from our College of Law, Palao-Ricketts has been committed to helping many students and graduates navigate through their interest in tax law and ERISA, bar exam preparation, and the transition to the practice of law.
Cisco joined the College of Law Board of Advisors in 2020.
---
Rebeca Sánchez-Roig L'90
Managing Partner, Sánchez-Roig Law PA
Rebeca Sánchez-Roig is managing partner of Sánchez-Roig Law, P.A., a boutique immigration firm representing global clients in U.S. immigration matters before federal agencies and courts. A former Deputy Chief Counsel, Ms. Sánchez-Roig was a federal prosecutor with U.S. Department of Homeland Security and legacy U.S. Immigration and Naturalization Service for 17 years. She supervised litigation before the immigration and federal courts, strategic and knowledge management, daily office operations, and hiring; advised the agency's operational units, and regularly interfaced with other agencies at the Headquarters and U.S. consular posts levels.
She was a senior litigator on special interest cases, a member of numerous national committees, and designated Presidential Pardon attorney. Ms. Sánchez-Roig received many awards during her years of public service, including DHS's Assistant Secretary's Outstanding Achievement in Diversity Management Award.
Ms. Sánchez-Roig started her career as a lighting designer in the entertainment industry, never imagining that a conversation with an internationally renowned singer would propel her into her life's work. After law school, Ms. Sánchez-Roig joined the international law firm of Morgan, Lewis as a Business and Finance Associate; and later joined Zuckerman, Spaeder as a Corporate and Real Estate Associate.
Ms. Sánchez-Roig is an active member of numerous organizations, including the American Immigration Lawyers Association (AILA), AILA South Florida (AILA SFL), AILA Central Florida (AILA CFL), Immigration Defense Bar Association (IDBA), Catholic Legal Services (CLS) of Miami, and the Cuban American Bar Association. She serves on the Board of Directors of IDBA, CLS, and the Selective Service System, State of Florida; also serving as Treasurer of IDBA and CLS.
---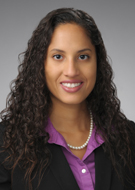 Astrid Quiñones L'18
Staff Attorney, Legal Services
Astrid Quiñones is a staff attorney for a legal services provider whose mission is to reduce the burden of poverty. Astrid provides legal representation for low-income domestic violence survivors in matters of divorce, custody, child support and protection orders. As a first generation student, Astrid attended Fairfield University, graduating in May 2014 with a Bachelor of Arts in Social Work and Justice. She also studied philosophy, peace and justice studies, and women, gender and sexuality studies.
Before pursuing her career in law, Astrid dedicated a year of service to the Good Shepherd Shelter for Battered Women and Children in Los Angeles. She served as the Advocacy, Outreach and Social Media Liaison.
During Astrid's time at Syracuse Law, she took advantage of the dual degree program and also received her Masters in Public Administration from the Maxwell School of Citizenship and Public Affairs. Astrid was a member of Syracuse Law Review and Moot Court Honor Society (now known as the Advocacy Honor Program). She competed in many advocacy competitions and was awarded Best Advocate of the Bond Schoeneck & King ADR competition in 2017.
During the Pinnacle Awards, Astrid was awarded the Seeley Johnson Award, Dean's Award, and membership to the Order of Barristers. Upon graduating from the College of Law in May 2018, Astrid clerked for the Honorable James H. Pickering, Jr. J.S.C., fellow SUCOL alum, in New Jersey Superior Court.
Astrid joined the Syracuse University Law Alumni Association in 2019. She currently serves as the chair of the Inclusion Network.
---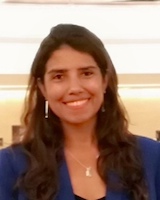 Carla Villarreal López LL.M.'17
Human Rights Officer, Secretariat of the UN Committee on Economic, Social, and Cultural Rights
Carla Villarreal is a Peruvian human rights lawyer with more than a decade of experience defending human rights at the national, regional, and international levels. Recently, she has joined the Human Rights Treaty Bodies Branch at the Office of the High Commissioner for Human Rights in Geneva, Switzerland.
The Treaty Bodies are committees of independent experts that monitor the implementation of the core international human rights treaties. In this framework, Carla is working with the United Nations Committee on the Rights on Economic, Social, and Cultural Rights, where she performs legal and policy analysis to hold governments accountable for their obligations.
Previously, she received the prestigious Joseph P. Kennedy Jr. Foundation International Public Policy Fellowship that allowed her to support the UN Committee on the Rights of Persons with Disabilities and the first UN Special Rapporteur on the Rights of Persons with Disabilities.
Carla Villarreal is a Master of Laws (LL.M.) graduate at Syracuse University College of Law and was a fellow of the Disability Rights Scholarship Program by Open Society Foundations. While at Syracuse, Villarreal Lopez's academic strengths and commitment to public service were recognized with the Robert B. Menschel Public Service Fellowship that enabled her to augment her practical experience working in Washington, DC, for Women Enabled International. Before arriving in Syracuse, Carla was already an experienced human rights lawyer.
She holds a Master's Degree in Human Rights and a Law Degree from the Pontifical Catholic University of Peru (PUCP). In her native country, Carla served as a Commissioner in the Women's Rights Department at the Ombudsman Office, a researcher at the Institute for Democracy and Human Rights of the PUCP, and a professor at the Law School of the same university.
---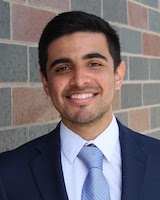 Simon Chona L'23
Law Clerk, Maryland Office of the Public Defender, Prince George's County, and President, Latin American Law Student Association
Simon Chona is a Venezuelan American thrid-year law student at Syracuse Law. Originally from Maryland, he obtained a B.A. in History from Michigan State University in 2017. He is currently a law clerk for the Maryland Office of the Public Defender in Prince George's County. He previously interned at the Law Offices of Jose Perez PC and the Southwest Detroit Immigrant and Refugee Center.
He is also the President of the Syracuse Law Latin American Law Student Association and a member of the Class Act Committee for the class of 2022.